Why Is Terrazzo Vinyl Flooring Worth Buying?
Views: 391 Author: Site Editor Publish Time: 2021-05-31 Origin: Site Inquire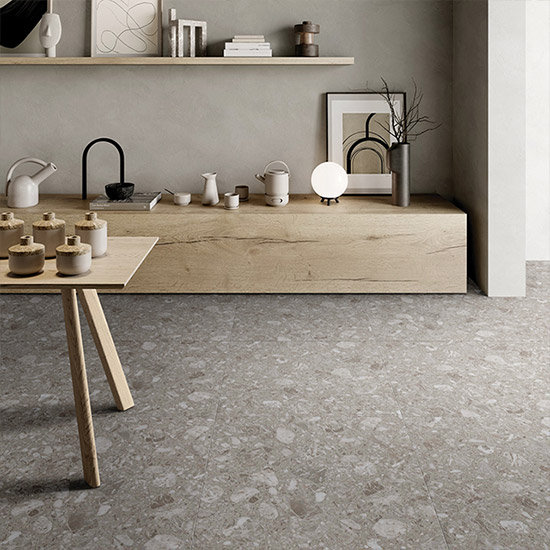 Terrazzo flooring is a popular flooring option on the market nowadays. Many homeowners would like to buy terrazzo flooring for its durability and unique pattern on the surface. As the flooring market develops and expands, terrazzo vinyl flooring emerges as a new kind of vinyl flooring. Shortly, it has become overwhelmingly popular by lots of people. Why did many people prefer this terrazzo vinyl flooring? Through the following passages, you may find the answer!
What Is Terrazzo Flooring?
First of all, let's take a look at what terrazzo flooring is. Terrazzo is a typical flooring material made by combining gravel, glass, marble, quartz, or other aggregates with the cementitious binder. Then the surface of terrazzo flooring will be polished until smooth. One of the biggest features of terrazzo is that its surface contains a pattern of inconsistent chips. This sophistication creates a comfortable, soft feeling in homes. Besides, various colors in pattern and design options and availability. That's why so many people are obsessed with it.
However, as the flooring industry develops, people have more flooring options than before. They found some weaknesses in terrazzo flooring. Firstly, terrazzo flooring is too heavy to carry and move. This is not convenient for transportation, which may cost more money. Then the price of terrazzo flooring is still a little bit high, which cannot meet the requirements of most homeowners today. Therefore, vinyl flooring, new environmentally-friendly flooring has entered the market.
The main raw material of vinyl flooring includes PVC or vinyl resins, plasticizers, or other elements. It can resemble the look of other floorings of natural material like wood flooring, stone tiles, and particularly terrazzo.


Why Is Terrazzo Vinyl Flooring Better?
1. Terrazzo vinyl flooring is 100% waterproof, which makes it suitable for kitchens, bathrooms, and other moist areas.
2. Terrazzo vinyl flooring is easy to install due to the unique click-lock system. Without any glue or nails, you can simply lay the terrazzo vinyl on the sub-floor and interlock the planks easily. Besides, terrazzo vinyl flooring is not that heavy as the real terrazzo flooring, Thus, it is convenient for homeowners to buy them home and DIY the installation.
3. Terrazzo vinyl flooring has a realistic look of real terrazzo. Many people give priority to the appearance and style of the flooring when they are buying. But terrazzo vinyl flooring remains the original style and beauty of real terrazzo for its realistic terrazzo look.
4. Besides, terrazzo vinyl flooring is not as expensive as the real one. Even with a realistic terrazzo look, it is cheaper and more cost-effective.
Suggestion on Styling Terrazzo Vinyl Flooring
1. Living Room
Living rooms are always luminous and spacious, where needs something special. Terrazzo vinyl flooring can create a sense of warmth and uniqueness in the living room. Besides, terrazzo vinyl planks also can be used for backdrop, which adds value to your home.
2. Bathroom
Most people like to keep their bathrooms simple. With excellent waterproof performance, terrazzo vinyl can make your bathroom charming and special.
3. Patio
If you have a larger house with a patio, then you should use terrazzo vinyl for the patio. A patio is usually a relaxing place with sunshine and green plants. With a scattered-chip pattern, terrazzo vinyl can add a sense of elegance and fit with the green plants.
Where to Buy Terrazzo Vinyl Flooring?
COCOROSA is your best choice! We are a professional vinyl flooring manufacturer, providing SPC and LVT vinyl of various styles. In particular, terrazzo look vinyl is one of our best-selling products. If you don't know which style of vinyl flooring to buy, tell us your requirements now at Sales@Cocorosasurefaces.com.