Why Do You Need Vinyl Peel and Stick Mosaic Tiles?
Views: 20 Author: Site Editor Publish Time: 2021-07-20 Origin: Site Inquire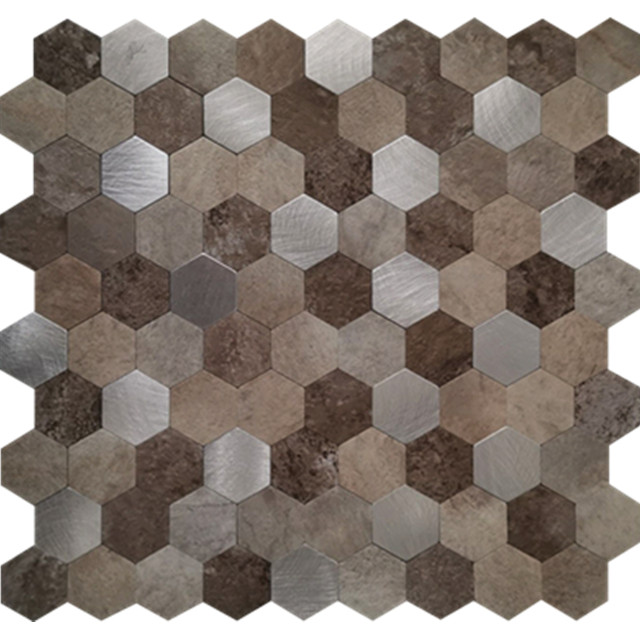 Mosaic tiles are a popular decoration for kitchen bathroom walls. They serve as a backsplash to protect the walls from being stained by splash and add style with their colorful patterns. Generally, mosaic tiles on the decoration market are made from ceramics, glass, marble, porcelain. As the market expands, a new type called vinyl peel and stick mosaic has come out. With some unique advantages, this product has become a popular choice for many homeowners and businessmen. So today let us show you why vinyl peel and stick mosaic tiles can be a great success.
What Are Vinyl Peel And Stick Mosaic Tiles?
Vinyl peel and stick mosaic tiles are a kind of self-adhesive vinyl sheet in mosaic patterns. They have an adhesive backing that enables the tiles to stick directly and firmly to the walls of the kitchen and bathroom.
Aesthetic Style
Style is an important factor you must consider when decorating whether residential or commercial areas. One of the biggest advantages of using mosaic tiles is that they can create a sense of beauty with their abundant and colorful patterns. Vinyl mosaic tiles are available in a wide range of styles and patterns that meet your decoration requirements. Particularly, they can bring realistic looks of materials like marble, stone, glass, or wood. The decoration effect is not inferior compared to the real mosaic tiles.
Easy Installation
Vinyl peel and stick mosaic are quite easy to install. Peel off the plastic layer from the adhesive backing, and attach tightly them onto your walls. Complex tools and materials are not needed for the installation process. Therefore, vinyl peel and stick mosaic are especially suitable for those who like doing DIY jobs. This product is able to save cost and time on the installation.
Easy To Remove
Home decoration needs an update from time to time if you are kind of a person who loves and enjoys life. However, sometimes it is difficult to change the decoration of your home due to some objective factors. If your flooring and wall tiles are installed by cement, you will get a large amount of work to do for the replacement. But for vinyl mosaic, everything becomes handy. It is easy to remove the peel and stick tiles as they are not installed by cement or nails. As long as you remove the residual adhesive on the walls, you can install the new vinyl mosaic tiles.
Great Durability
Vinyl tiles are 100% water-proof and heat-resistant so they can handle well the moisture and heat in kitchens and bathrooms. These vinyl peel and stick tiles can hold up on walls for a very long time. You don't even need to use extra adhesive to install the tiles on your wall.
Great Affordability


Vinyl peel and stick mosaic is quite economical compared to ceramic, stone, or glass mosaic. For most home and commercial use, budget is always the priority. Peel and stick vinyl mosaic is an ideal option that saves your cost and gives you elegant look.
Where to Buy
COCOROSA is a top manufacturer and supplier of vinyl flooring materials with more than 15 years of experience. Our main products are click-lock SPC and LVT, peel and stick vinyl mosaic, and tiles. We are experienced in exporting our goods to clients from all over the world. If you have any requirements or questions about our products, please feel free to contact us at Sales@Cocorosasurefaces.com.