Which Is the Right Flooring for Your Kitchen?
Views: 43 Author: Site Editor Publish Time: 2021-09-28 Origin: Site Inquire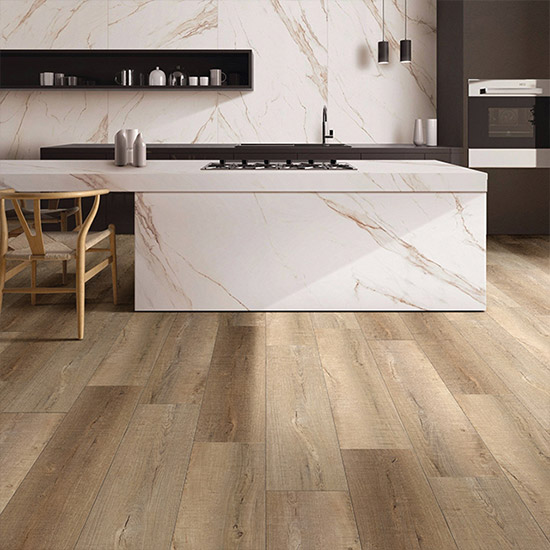 There are lots of flooring options for the kitchen. Without much knowledge of flooring, many people don't know how to choose the right one for their kitchens. As a professional flooring supplier, COCOROSA will help you make the right decision. Let's learn about the three most popular kitchen flooring.
Hardwood
Hardwood is one of the most common flooring for the kitchen, as well as somewhere else of the house. As is known to all, hardwood flooring has a beautiful surface because it's made from natural wood. Besides, you can feel quite comfortable when you walk on it. Compared to tiles, it is much warmer that gives you softer foot feel. Therefore, hardwood is the right choice for the kitchen, where you will stay every day.
However, hardwood has some weaknesses that you must consider. First, although it is water-resistant, it is not 100% waterproof. For the spills, it will be fine if you clean up immediately. But the kitchen is known to be a moist area. Excessive moisture can damage the wood planks and grow mold and fungus.
Besides, hardwood is susceptible to scratches by pets or high heels. It is available in refinishing, but the cost of maintenance will be high. What's more, hardwood does not support DIY installation. The cuts and layout are so complex that you cannot finish without a professional. When it comes to the price, hardwood is usually more expensive than tiles and vinyl. Some people won't consider hardwood due to its affordability.
Tiles
Tiles are also a well-known type on the flooring market. As it has a glossy and smooth surface, it won't absorb spill, bacteria, or smell. Besides, it is durable because it has great sturdiness, providing resistance to scratches and wear. So it is quite easy to clean and maintain tile flooring.
Tiles are available in various types, such as ceramics, porcelain, marble, and mosaic. Ceramics and porcelain are the most popular tiles for the kitchen. They have unique styles that add home value. For those who prefer the variety in style, tile flooring is also a good option for the kitchen.
Nonetheless, there are some shortcomings in tile flooring. First, it is hard to damage the tiles due to their sturdy surface. However, the glass items like cups can easily break when falling on the floor. Second, some tiles can get slippery when there is residual water on it. It will be safer if you select the slip-resistant type of tile. Third, like hardwood, tile is not available in the DIY installation. You need to hire the professional for a perfect result. Last, tile is less expensive than hardwood. But it still has a higher price on the flooring market.
Vinyl
Vinyl should be the most popular and innovative flooring in recent years. First of all, it is so economical that many people can afford it. Vinyl flooring is much cheaper than hardwood and tile. Then comes its wonderful waterproof performance. Like SPC and LVT, they are 100% waterproof, working better in moist areas like the kitchen. Besides, it has superior resistance to stains and scratches. The maintenance and clean is easy and low-cost.
Vinyl also does well in the foot feel and sound insulation. It is more comfortable and quieter when you walk on it. Unlike hardwood and stone tile, vinyl is not made from natural material. But it is still environmentally friendly because of its non-toxic material.
Some people may concern that vinyl's appearance may look as good as hardwood and tile. Actually, some types of vinyl have a realistic look of hardwood and stone. This is one of the reasons why vinyl has become so popular these years. In addition, vinyl flooring supports the complete DIY installation. Whether it is glue down or click lock, you can easily get the installation done without a professional.
Even with so many benefits, vinyl has some disadvantages. It has a reasonable price, but it has no resale value. Besides, removing a vinyl plank is difficult once it is glued. Notably, vinyl is sensitive to direct sunlight, as it may get fading and discoloration.
Summary
After reading the article, have you chosen the right flooring for your kitchen? Frankly speaking, there is no winner between the three flooring. You have to consider your actual condition as well as other key factors so that you won't regret it. For any questions, welcome to contact us at Sales@Cocorosasurefaces.com. We look forward to hearing from you.