Vinyl Plank vs Sheet Vinyl: What Is the Similarity and Difference?
Views: 109 Author: Site Editor Publish Time: 2021-05-24 Origin: Site Inquire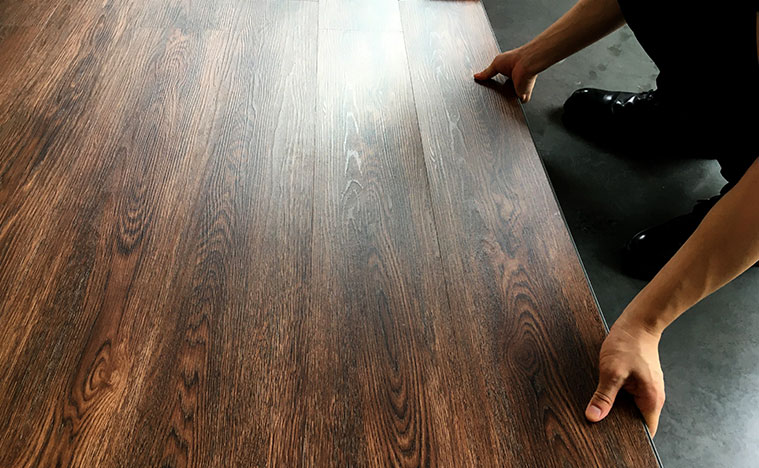 Vinyl flooring has been one of the most popular flooring options for many homeowners. It is 100% waterproof, durable, and good-looking. Generally, there are two main types of vinyl flooring on the market: vinyl plank and sheet vinyl. Which one is better? I am sure lots of people would like to know the answer. Today, let COCOROSA tell you the similarity and difference between these two types of vinyl flooring. Hopefully, you can make the right choice.
Similarity
Both vinyl plank and sheet vinyl are made from original vinyl and have the same construction inside. They are 100% waterproof so they are perfect options for most areas of your house.
Difference
Although vinyl plank and sheet vinyl have the same material, they are still different in some aspects.
The biggest difference between vinyl plank and sheet vinyl is their finished forms. Vinyl plank flooring comes in independent plank, which is similar to laminate and hardwood flooring. It is often installed plank by plank. sheet vinyl is always a large roll so it must be installed in one or two large pieces.
Vinyl Planks
Sheet Vinyl
Installation
Sheet vinyl is usually installed by the glue-down method. The installer must apply adhesive or glue onto the underlayment so that the sheet vinyl flooring can stick firmly to the sub-floor. Then, a heavy roller is must be used to secure the flooring. For the seams of two large pieces, the installer will need special skill to deal with it. In conclusion, the installation of sheet vinyl needs a professional because it is hard to finish the whole process by yourself. In particular, many homeowners have no experience in applying adhesive and glue. If some big mistakes are made, they have to pay extra money to repair.
Compared to sheet vinyl, installing vinyl planks is much easier for its unique click-lock system. Without the need of glue or nails, you just place the planks on the sub-floor, and secure them with its click-lock system. So many homeowners would prefer vinyl planks for they can DIY the installation to save cost.
Water Penetration
Sheet vinyl flooring is usually installed in one or two unbroken large pieces. That is to say, there will be few seams between the piece. Thus, water cannot penetrate the floor easily. As you can see, sheet vinyl is an ideal option for bathrooms and other areas where exists much moisture.
Vinyl planks are 100% waterproof and not susceptible to moisture. However, they are often installed in many independent pieces. Inevitably, there will be many seams on the surface of the flooring. Moisture can easily seep through the seams and then enter into the sub-floor.
Repairs
It is easy to maintain vinyl planks that are durable. But if the planks get damages due to the improper maintenance, do not worry. The installation of vinyl planks is free from glue and nails. You can easily remove the broken pieces and replace them with the new ones.
Sheet vinyl doesn't work as well as vinyl planks on the repair. It is hard to remove one piece of sheet vinyl for there is glue on the underlayment. Besides, the pieces are usually larger than vinyl planks. If you want to remove them, that will be a very big project.
Conclusion
Sheet vinyl and vinyl planks are both practical vinyl flooring. Which one to install depends on your actual requirements. Where can you buy high-quality vinyl flooring? COCOROSA can help you.
COCOROSA is a leading vinyl flooring manufacturer providing high-quality SPC and LVT vinyl flooring. For more information about our products, welcome to send us inquiry at Sales@Cocorosasurefaces.com.