Vinyl Flooring vs Tiles: Which Is the Best for dogs?
Views: 11 Author: Site Editor Publish Time: 2021-08-09 Origin: Site Inquire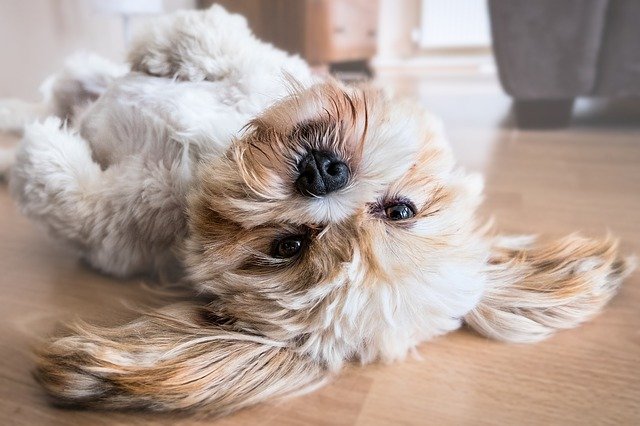 Dogs are always good friends of humans. Nowadays, many people have a dog at home, and some may have two or more. Dogs are susceptible to the environment they live, as floors are the most frequent items they contact every day. Therefore, pet owners have to make the right decision when choosing the flooring. A suitable type of flooring can help your dogs grow and live healthily. Vinyl flooring and tiles are the two most common types of flooring on the market. Let's make a comparison of them to see which is the best flooring for your dogs.
What Do Dogs And Human Need?
Before starting the comparison, it is necessary to consider our and dogs' needs. On the pet's side, they want a comfortable surface where they can run, play, and lay. On the human's side, they prefer the flooring can be easy to clean and avoid getting scratches.
Tiles
Tiles should be the favourite of many homeowners, as it is easy to buy and never out-of-the-date. When you want to bring this kind of flooring at home, you should consider the following aspects.
Durability
Tiles have exceptional hardness, so it is durable and long-lasting. This kind of flooring is quite difficult to break so you won't repair or replace it frequently. Once installed, your dogs can have an almost permanent place where they can play with you.
Scratch-resistance
A right type of flooring must be scratch-resistant. Dogs' paws can cause severe scratches on floors' surface. Tiles are highly resistant to scratches. Your dogs can freely run on the tile flooring without any worry.
Maintenance
If you want to save a lot of labour and time, choose the flooring that is easy to clean and maintain. Tiles are effortless to clean. Although dogs leave hair on the floors every day, you can vacuum them up quickly. For any spills or even dogs' urine, you need to use a clean cloth to wipe it up.
Shortcoming
However, tiles have some disadvantages that may cause hurt to dogs. First of all, tile flooring can become slippery with water, especially in rainy seasons. Besides, you can't forget how hard the tile flooring is. Thus, the dogs can easily slip and get hurt when running fast on the flooring.
Then, tiles are always cold, without any warmth even in winter. Dogs love to lay on the flooring. You need to put a carpet on the floor so that your dogs won't get cold.
Vinyl Flooring
Vinyl flooring is a new kind of flooring that has been acclaimed in the last few years. Compared to tile flooring, it has more benefits as follow.
Style
Vinyl flooring is available in a variety of styles that look like natural stone or hardwood. You have many options to make your floor perfect.
Waterproof
Vinyl flooring is 100% waterproof. It can maintain great performance even under a humid environment like the kitchen and bathroom. Moreover, it won't be as slippery as tile flooring, providing a safer place for your dogs to live.
Scratch-resistance
Vinyl flooring has excellent dimensional stability. It contains a wear layer that provides excellent resistance to scratches and wears. You don't have to worry about causing scratches on the floor while playing with your dogs.
Sound-insulation
Vinyl flooring is very quiet underfoot. You won't be disturbed if you work at home with your dog running or playing on the floor.
Maintenance
Like tiles, vinyl flooring is super easy to clean, as it is stain-resistant. Regular vacuuming or sweep is enough. Besides, it is easy to replace a vinyl plank if it is broken. With a unique click-lock system, you can get the job done very quickly. If you have a damage-type dog, don't worry, and vinyl flooring can save your labour.
Affordability
Vinyl flooring is much more inexpensive than tiles. Many homeowners prefer the look of stone or hardwood, but they cannot afford the tiles. With saving money from the flooring, you can buy something else for your dogs.
Conclusion
To sum up, what is mentioned above, you can see vinyl flooring is more suitable for your dogs. COCOROSA is a direct factory and experienced in exporting vinyl flooring. For any questions or cooperation opportunity, please contact us at Sales@Cocorosasurefaces.com.
We look forward to working with you!