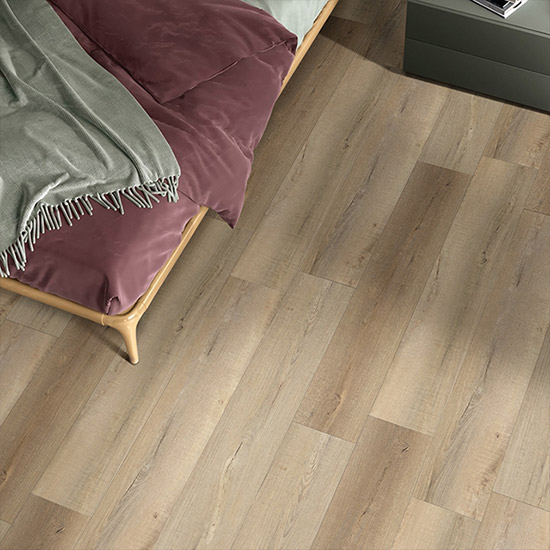 Vinyl flooring has great durability and affordability. So nowadays, many people tend to choose vinyl flooring for their home or business. There are two popular types of vinyl flooring on the market - SPC and WPC. The two options have their advantages as well as shortcomings. Therefore, COCOROSA will explore the similarity and differences between SPC and WPC. Hopefully this article can help you select the right flooring for your needs.
SPC vs WPC : What Is SPC or WPC Flooring?


What Is SPC?
SPC stands for stone plastic composite. It has a rigid core made of limestone and stabilizers.
What Is SPC Flooring Made of?
An SPC plank consists of 5 layers. COCOROSA gives the explanation of each layer below.
UV coating: This layer is a surface that protects against UV radiation and provides high resistance to wear and stain.
Wear layer: This is a transparent layer that enhances the resistance to scratches and stains.
Decor film: This layer is also called the vinyl layer, which provides the decoration for the floor as it contains the pattern and the outlook of the floor.
SPC Core: The core is made from a combination of natural limestone powder, and stabilizers, ensuring a stable and waterproof performance for the floor.
Underlay: This layer is made from IXPE or EVA foam, which adds a soundproof performance for the floor.
What Is WPC?
WPC stands for wood plastic composite, with a core comprised of recycled wood pulp and plastic composites. Its construction can be divided into the following layers:
UV Coating: This is the outermost layer of WPC, which protects against UV radiation and provides high resistance to wear and stain.
Wear Layer: This is a transparent layer that enhances the resistance to scratches and stains.
Vinyl Layer: This layer provides flooring colors and patterns.
WPC Core: The core is made from recycled wood pulp and plastic composites, which is stable and waterproof.
Backing Layer: Made from EVA foam, this layer adds sound insulation and cushioned foot feel for the floor.
SPC vs WPC : Similarity
As is said above, SPC and WPC have very similar construction. So they have several features in common.
Waterproof Performance
SPC and WPC both have a waterproof core, which prevents the floors from decaying and deforming when subjected to moisture. So both SPC and WPC can be used in bathrooms, kitchens, laundry rooms, and other moisture areas.
Simple Installation
SPC and WPC flooring both support DIY installation. They can be installed over all kinds of sub-floors or existing floors. Due to their click-lock design, you can easily install the planks without any glue.
Great Durability
Generally, SPC and WPC flooring have high resistance to scratches and stains. They can still do a good job even in the high-traffic areas.
Multiple Styles
When you search SPC and WPC flooring on your phone, you will find a wide range of styles. Those types of styles have various colors and patterns. You can buy the SPC or WPC flooring that looks like hardwood, tiles, or natural stone.


SPC vs WPC : Difference
The differences between SPC flooring and WPC flooring lie in the following aspects.
Thickness
With a thicker core, a WPC plank is thicker than an SPC plank. The thickness of a WPC plank is usually 5.5mm to 8mm. But the thickness of an SPC plank is just between 3.2mm to 7mm.
Durability
Because of the greater thickness, you probably think WPC floors are more durable. The truth is that SPC floors have greater durability than WPC floors though SPC floors are thinner. The core of WPC flooring is foamed. This feature can add more air to the core so as to reduce weight. However, the core of SPC flooring is made from 75% limestone without any foaming agents. So SPC has a greater hardness than WPC, making it more difficult to get scratches and wear.
Soundproof
With a thicker core, WPC has an excellent ability to insulate sound. The greater thickness makes it absorb more sound than SPC. So the environment is quieter when you are walking on WPC.
Foot Feel
With a foamed core, WPC is softer and warmer underfoot than SPC with limestone. WPC is more likely to be used in the home while SPC is suitable for commercial use.
Stability
Both WPC and SPC can deal with temperature fluctuation. But SPC has more stable performance when handling extreme temperature changes. With a harder core, SPC has a high resistance to expansion and contraction.
Price
Compared to WPC, SPC is less expensive. But you should not just consider the price when selecting the flooring. It is always better to consider all benefits and disadvantages and then decide to buy which type.
SPC vs WPC Vinyl Flooring: Is SPC Better Than WPC?
As you can see, it is hard to select a winner between WPC and SPC. They have both similarities and differences. For a more comfortable and softer foot feel, you can choose WPC. For more durable use, you should buy SPC. Which one to choose depends on your actual needs for your home or business.
Where to Buy SPC Vinyl Flooring?
COCOROSA is a leading SPC vinyl flooring manufacturer, providing both superior quality and good prices for SPC products. If you want to learn more about our SPC products, please directly contact us at Sales@Cocorosasurefaces.com.