Online Canton Fair 2020: China Flooring Supplier
Views: 49 Author: Site Editor Publish Time: 2020-10-14 Origin: Site Inquire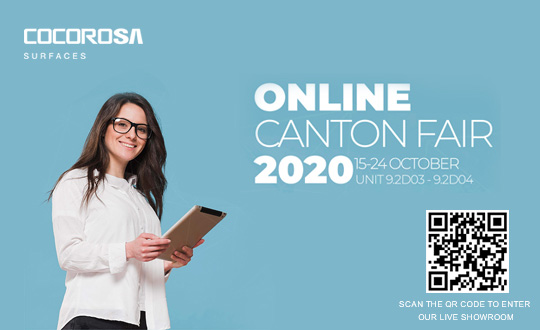 Online Canton Fair Again In 2020



The 128th Canton Fair is going to be held online from 15th Oct. To 24th Oct. 2020, lasting for 10 days.
Due to the impact of COVID-19, an online trade fair comes up again in 2020. This is the second online Canton Fair since the first online Canton held in June, 2020. As a professional flooring manufacturer, COCOROSA is glad to attend such a grand event. Welcome to scan the OR code in the poster to enter our live showroom!


What To Expect In The Online Canton Fair?
The online fair will set up 50 exhibition areas and 60,000 booths according to 16 product categories. The domestic exhibitors will be up to 25,000.
Besides, the platform offers a 24-hour live showroom for every exhibitor in the following 10 days. Thus, they can present their product to buyers face to face through live streaming. Wherever buyers are from, there will be no limitation of region and time difference.
Buyers also can send inquiries online to exhibitors, whose salesmen can give responses quickly online.


COCOROSA Is Waiting For You
COCOROSA is a leading flooring supplier, offering high-quality SPC, LVT vinyl flooring. Online Canton Fair is a brand new mode of business negotiation. We are ready to accept this challenge as well as opportunity.
If you are looking for cooperation with a trusty flooring supplier, welcome to join our online showroom! We will share everything you want with you! Please feel free to scan the OR code in the poster at the top of the article. Or you can directly visit the website below.
https://ex.cantonfair.org.cn/pc/zh/exhibitor/4ab00000-005f-5254-c292-08d7ed7ad09e
We sincerely look forward to your attendance. See you on 15th October!