How To Remove Stains From SPC Vinyl Flooring?
Views: 125 Author: Site Editor Publish Time: 2021-04-12 Origin: Site Inquire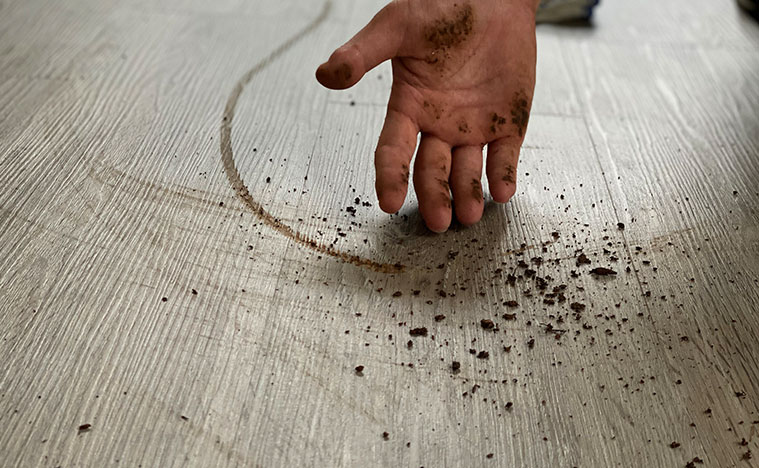 SPC flooring has excellent resistance to stains. You can easily wipe off the stains with a clean white cloth or wet mop. Today, we will talk about the care guide when dealing with the stains on the floor. Hopefully, this article can tell you how to remove stains from SPC vinyl flooring easily.


For Common Stains
1. If the stain is solid, please use a plastic spatula or dull knife to scrape it off first.
2. For any remaining spills, use a white and clean cloth to blot but do nor rub. The color of the spill may be pulled onto the floor.
3. As soon as the stain has got removed, use a clean mop with warm water to wipe off the stain again, removing the residue.
4. If the stain remains, please consult the people who are professional in flooring. Do not try any unknown cleaner because it may damage the floor. It is better to ask those who are professionals in flooring.


For Specific Stains
The SPC floor can be affected by all kinds of stains in our daily life. Some specific stains are hard to remove or clean. Many people will turn to hire a professional to solve the problem. That is a kind of option. But a DIY solution is also available. Please check out the chart below. You can find the correct SPC stain remover, which corresponds to the specific stains.
Adhesive Stains

Mineral spirits for clean-up and Isopropyl alcohol

Grease

Mineral spirits for clean-up and Isopropyl alcohol

Asphalt(Emulsion/Cement)

Citrus based cleaner/mineral spirits for clean-up

Tar

Mineral spirits for clean-up and Isopropyl alcohol

Scuff marks

Lighter fluid and Paint thinner

Rinse the area with hot water afterward

Oil Paint

Wet paint – Mineral Spirits

Dry paint– Rubbing alcohol and scrape with a plastic spatula

Lipstick

Mineral spirits for clean-up and Isopropyl alcohol

Stubborn Rust

Lemon juice

Baking Soda

Crayon

Mineral Spirits for clean-up

Ink

All-purpose cleaner / Rubbing alcohol

Hairspray

Add a small amount of shampoo into the mop water

Permanent Marker

Acetone

Mineral spirits for clean-up

Rubbing alcohol

Nail polish remover
Notes For Removing Stain From Vinyl Flooring
Test the cleaner that you will apply to the vinyl floor in an unnoticeable area to see if the cleaner make the floor discolor and damage.
Cleaning cloth should be white to prevent other color bleeding into the vinyl floor.
Mop the floor with clean water again after using the cleaner. Remember to dry the floor when the cleaning is finished to avoid any cleaner residue remaining on the surface of the floor.
Any abrasive cleaners is absolutely prohibited for floor cleaning because they can cause a permanent film or mark on the floor.
Any stains on the SPC vinyl flooring need to be removed timely. If you want to keep your floor look new and beautiful, you have to do this. Do not try any other methods if some stubborn stains remain. It would help if you asked the professional for help. Any improper cleaning methods may hurt the floor.
As you can see, maintaining your SPC floor always takes time and effort. But it is truly worthwhile when your SPC vinyl floor still looks shined and beautiful after a long period. For more instructions on how to maintain SPC vinyl flooring, please feel free to contact us at Sales@Cocorosasurefaces.com.