How to Make A Room Look Bigger with Flooring?
Views: 3 Author: Site Editor Publish Time: 2021-08-24 Origin: Site Inquire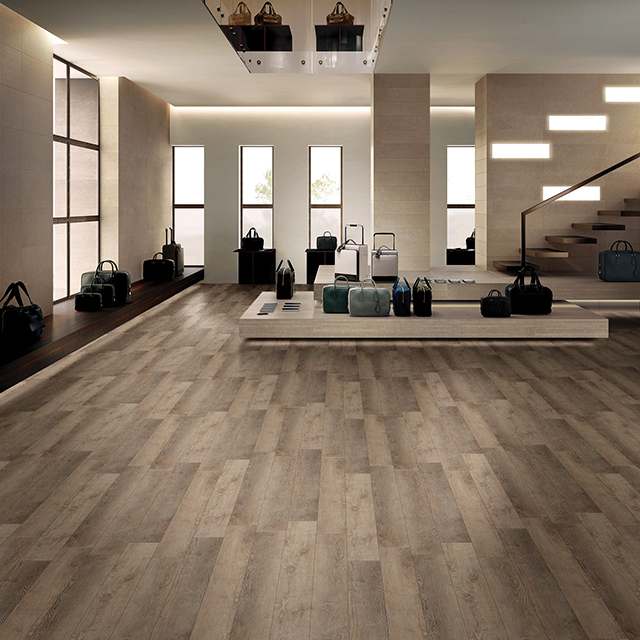 Are you dreaming of a spacious room where you can do what you want? In reality, many people 's rooms don't have too much space. But with the right flooring, you can make the room look bigger than you imagine.
Sounds magical and amazing, right? How can flooring change the way we look at our rooms? Actually, flooring plays a vital role in room decoration and even can create the illusion that we want. Today, we give four tips about selecting the right flooring to make your rooms look bigger.
Dark-coloured Flooring
You might be confused when seeing this sub-title. Most people tend to think light-coloured flooring always makes rooms look bigger for it can reflect light better. However, a room decorated with all light-coloured flooring doesn't look good.
Instead, dark-coloured flooring can help a lot, such as dark wood. It can create a cave-like feeling on the floor, which adds depth to the room. Thus the room space can be visually expanded.
Not all dark flooring makes equal effect unless it is paired with walls of lighter and cooler colour. But never use the wall colour that entirely contrasts to the floor as the room will seem abnormally narrow.
Wider Planks Or Larger Tiles
If you are going to install tiles, go for large-size ones. Small-size tiles only make a room look cramped instead of spacious. Likewise, if you plan to install hardwood or vinyl flooring, choose the larger planks.
For larger tiles, they work better with fewer grout lines. A seamless layout can create a more integrated space, making the room feel less busy.
Diagonal pattern
Laying out the planks or tiles in a diagonal pattern is also beneficial to make a room look more spacious. The diagonal layout works better, whether in a rectangular or square room. Besides, this kind of pattern adds a sense of art and much elegance.
Placing the boards parallel to the longest wall of the room is the other way to expand the space visually. This method can make a room look much more longer.
Same Flooring In Different Rooms
Install the same flooring in different rooms of your home. The same flooring will increase the consistency of style and add a seamless effect.
When laying out the same flooring, remember to use the same diagonal pattern throughout each room. Keeping the same flooring style can make a vast difference in adding spaciousness for your house.
Remove Items On The Floor
Optimize the space by removing something unnecessary on the floor. Although this may not be a relevant tip of flooring, it is notably. Some people are not so good at space management. They used to make lots of clutter on the floor, reducing much available space. What are you waiting for? It is time to clean up the mess for your room!
Conclusion
Are you still upset about your room looking small? Please think about these tricks. You don't have the magic to make your room bigger, but you can make it look bigger. If you have any great ideas about this topic, come share with us at Sales@Cocorosasurefaces.com.
We hope to discuss more interesting things with you!