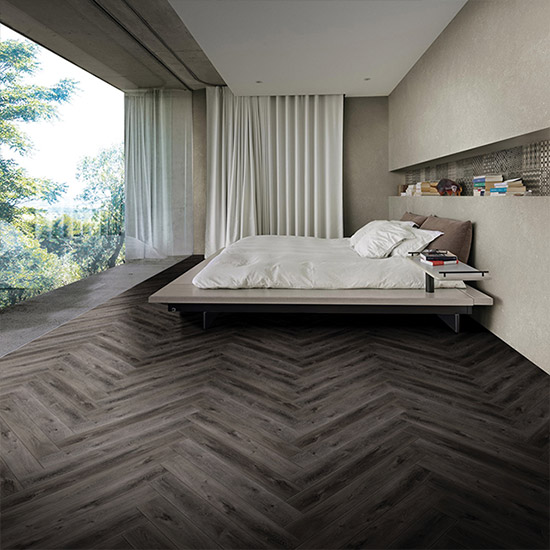 Everyone wants a dreamy bedroom where they can bard feet and feel entirely relaxed after work or school. Indeed, bedrooms are the most intimate and cozy places of homes, as they offer both physical and mental comfort for people. Therefore, selecting the right decoration material is quite important, especially flooring.
There are many factors that you need to consider when choosing the flooring for bedrooms. Some people may focus on the foot feel if it is soft enough. Others may pay more attention to the style and appearance of the flooring for they prefer visual enjoyment. Also, a part of people turns to concern environmental and healthy problems. Will the flooring produce toxic gas? Is the flooring recyclable? And there are maintenance and installation issues that draw lots of people's attention. All these mentioned factors are essentials, which help you make the right decision for your bedroom. Today, we will introduce you three popular flooring for bedrooms with their benefits and disadvantages. Hopefully, this article can be helpful to you.
Carpet
Carpet is the most popular bedroom flooring in many western countries. It can provide a comfortable and warm foot feel and a pleasant atmosphere for the bedroom.
Benefits
1.Comfortable: Carpet offers a softer foot feel than other hard-surface flooring. Walking barefoot in your bedroom won't make you feel achy but relaxed and comfortable. Besides, carpet can ensure a safer environment if there are children or old adults in the house. Carpet's cushioning can prevent them from getting hurt when they fall on the floor accidentally.
2.Warm: Carpet features great thermal resistance, which means it can stop the heat from losing. So the warm air will remain in the bedroom for a long time. And even if you walk barefoot in winter, you won't feel cold.
3.Sound Insulation: Carpet's soft surface can absorb noises and keep your bedroom quiet. This is critical for those who like to study and work at home. Carpet can create a perfect environment for both study and work.
4.Stylish: Carpet is available in thousands of styles and colors. Its texture and design can bring a sense of luxury to your bedroom, adding home value.
5.Cost: Compared to hardwood and tiles, carpet is relatively inexpensive. And you can select the more economical type according to the brands and styles.
Disadvantages
1.Maintenance: Carpet takes you more time to clean. Small dirt and spill can easily drop onto the carpet so you need to vacuum it quite often.
2.Non-waterproof: Carpet is not waterproof at all. Its texture can absorb water instead of resisting it. Moisture keeps permeating into the carpet, which will produce germs and bad odor.
3.Air Pollution: Some carpeting may release harmful chemicals like formaldehyde, which is threatening our health. So leave the room alone for a few days after you install the new carpet.
4.Non-recyclable: Carpet is not recyclable and has no resale value. When the carpet gets old, you have to install the new one.
5.Allergens: Carpet easily attracts dust and powder. Although vacuuming can help to remove most of the dust, there is still much dust or powder floating in the air. Carpet is not an ideal option for those who suffer from allergic reactions.
Hardwood
Hardwood is the most well-known flooring on the market. It is not only suitable for bedrooms but also in most areas at home. Hardwood's beautiful appearance and wear-resistant performance make it one of the most popular options for bedrooms.
Benefits
1.Good-looking: Hardwood is a versatile flooring, enjoying a wide range of shapes, patterns, and colors. It can easily adapt to different environments or furnishing. Besides, its natural wood patterns will make your bedroom look even warm and luxurious.
2.Long Lifespan: Hardwood is wear-resistant, whose strength can protect the surface from wear and scratches. It is so durable that you don't have to replace the flooring for a very long time
3.Resilient Surface: Hardwood's surface is not as soft as carpet. However, it feels more resilient and warmer underfoot than tiles and stone flooring. If you like to walk barefoot and prefer natural flooring, hardwood is a good choice.
4.Environmentally Friendly: Hardwood is a recyclable material. At the end of its service life, you can send it to the recycling center instead of throwing away.
Disadvantages
1.Non-waterproof: Hardwood is water-resistant but not 100% waterproof. Exceeded moisture can make the floor grow mold and finally turn into decay. Thus, for those areas subject to the humid weather, hardwood is not a wise option.
2.Costly Maintenance: Vacuuming and mopping can remove the dust and stain. But if you want to keep the surface polished, you need to spend money applying the wax. Also, once the hardwood planks go damaged, it is hard to repair. And you have to buy the new ones to replace them.
3.Higher Price: Hardwood is more expensive than carpet, especially the high-quality one. And you need to pay for the installation, which is complex and time-consuming.
5.Poor Sound Insulation: Hardwood is not good at eliminating noises like carpet because of its hard surface. Especially when someone wearing a pair of high peel walk in your bedroom, the noises can really upset you.
Vinyl Flooring
Vinyl flooring is a new type of flooring that has become increasingly popular in recent years. It has lots of unique characteristics that make people rather choose than any other flooring.
Benefits
1.Waterproof: Unlike carpet and hardwood, Vinyl flooring is 100% waterproof. It can even be used in moist areas like bathrooms and kitchens. If you are living in a humid-climate region, vinyl flooring can save you from trouble.
2.High-class Appearance: Vinyl flooring has a realistic look of natural hardwood and stone. It doesn't seem low compared to hardwood and stone flooring.
3.DIY Installation: Installing vinyl flooring is quite easy because you can do it by yourself. SPC and LVP vinyl flooring both have a unique click-lock system. You can install them without any glue and nails.
4.Easy Maintenance: As mentioned above, vinyl flooring is 100% waterproof so it is very easy to clean. Regular vacuuming and mopping are enough, with no need to apply wax.
5.Durable: Vinyl flooring is wear-resistant and scratch-resistant. It is particularly suitable for the high traffic areas Even in the high traffic areas.
6.Warmer and Softer: Vinyl flooring feels much warmer and softer than hardwood and tiles. WPC and LVT vinyl has a resilient surface on which you stand for a long time without feeling pain.
7.Lower Cost: Compared to hardwood and tiles, vinyl flooring is much cheaper. That's one of the biggest reasons why it has become so popular in these years. And you save money from installation for you can do it on your own.
Disadvantages
1.Non-recyclable: Vinyl flooring is not recyclable. When the flooring life is over and you decide to remove it, you just send it to the landfill.
2.Cannot Be Repaired: Once a vinyl plank gets damaged, it can't be repaired. The only way is to replace it with a new one. And the replacement will be a little difficult if the planks are adhesive vinyl.
Conclusion
If you are looking for a perfect foot feel, carpet is the best bet. If you are obsessed with natural material and wood patterns, you'd go for hardwood. And vinyl flooring is the most cost-effective one for it delivers both low cost and excellent performance.
COCOROSA is known for manufacturing high-qualitySPC and LVT vinyl flooring, which are the best options for your bedroom. For any questions, contact us at Sales@Cocorosasurefaces.com.