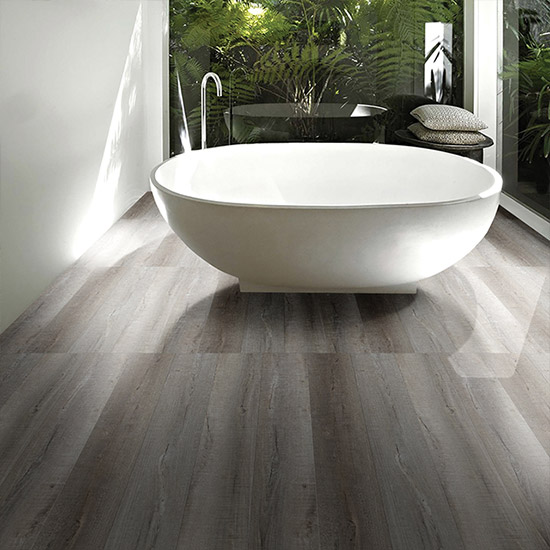 When selecting the bathroom flooring, what will be the first factor that comes into your mind? I bet there must be waterproof ability. As we all know, a bathroom is a moist and humid place. The waterproof flooring can handle that condition much better. And what else? Some people may concern their budget while others will focus on the styles, installation, or maintenance. So how can we make the right decision upon these factors?
Today, COCOROSA will bring you an insightful comparison of some popular flooring options for the bathroom. Hopefully, you can determine the best bathroom flooring after reading this article.

Porcelain Tile
Porcelain tiles are the prior options for many homeowners because they are 100% waterproof. With a non-porous surface structure, porcelain tiles are impervious to moisture, performing well in a humid environment.
Besides, porcelain is durable and wear-resistance, as it is made from clay and formed by firing at a high temperature. Porcelain tiles also enjoy a great variety of shapes and appearances. You can find lots of porcelain tiles of natural stone or wood look in different shapes.
However, porcelain also has weaknesses. First of all, it isn't easy to install the tiles by yourself. If you like DIY installation, you won't choose it. Second, porcelain tiles always feel cold and hard underfoot. It is not so comfortable if you stand on it for a long time, especially in winter. Last but not least, the most concerning issue is that porcelain tiles are quite slippery with water on them. So porcelain may cause accidents, and makes you get hurt finally.
Natural Stone
Natural stone is also a good option for the bathroom. It offers a luxurious and elegant look, adding more home value. Moreover, there are various types like marble, limestone, slate tiles, etc. All of these types have a wide range of textures and colors.
For the problem of resisting moisture, natural stone is capable of handling. It can withstand the humidity in your bathroom. Besides, stone tiles are super durable and timeless after being installed properly. You don't have to worry about repairing or replacing them frequently.
Even so, natural stone is not completely perfect for your bathroom. On the one hand, it is quite expensive that not everyone can afford it. Compared to ceramic or porcelain tiles, it needs higher maintenance, which costs more money. On the other hand, it is also as cold and hard underfoot as porcelain tiles. And DIY installation is not available, so you have to pay for a professional.
Vinyl Flooring
Vinyl flooring should be the most suitable option for your bathroom. It is 100% waterproof, as it is made from PVC. And vinyl flooring has a special wear layer that ensures stable performance. It is super wear-resistance and scratch-resistance, and won't easily get deformation or discoloration. Thus, it is very durable and can be used for a very long time.
Compared to porcelain and natural stone, vinyl flooring has some outstanding advantages. Firstly, vinyl flooring is not slippery. This can guarantee you can hardly get hurt in a moist bathroom. Secondly, vinyl flooring feels warmer underfoot and has a soft foot feel. Even if you stand on the floor too long, your feet won't get pain and cold.
Then, vinyl flooring is available in the DIY installation. With a click-lock system or self-adhesive backing, you can quickly get the installation done with the relevant instructions. Additionally, maintenance is a piece of cake. Regular vacuuming and mopping are enough without the need for wax. For the price, vinyl flooring is much more inexpensive than porcelain and stone tiles on the market. Most families can afford it.
Some people may prefer the flooring with a beautiful look. Although vinyl flooring has a lower price, it has a realistic look of natural stone and wood. And there are many styles, colors, and texture options for you to choose.
Which Type Of Vinyl Suits Your Bathroom Better?
There are various kinds of vinyl flooring, such as sheet vinyl, SPC, WPC, LVT, LVP, etc. And sheet vinyl and vinyl planks should be the best bathroom flooring. Why? A layout with fewer seams or no seams is absolutely perfect for bathrooms because the water can't permeate into the sub-floor. Installing vinyl planks has fewer seams than vinyl tiles, as planks are larger than the tiles. And sheet vinyl, which is installed by its self-adhesive backing, has no seams at all. And such a seamless layout makes the flooring more durable in a bathroom.
In the end, what kind of flooring will you install in your bathroom? I am sure you have already made the right decision.
COCOROSA is a professional flooring manufacturer, selling all kinds of high-quality flooring products. For any questions, please feel free to contact us at sales@cocorosasurface.com.