Five Reasons to Install LVT Flooring For Office
Views: 12 Author: Site Editor Publish Time: 2021-03-08 Origin: Site Inquire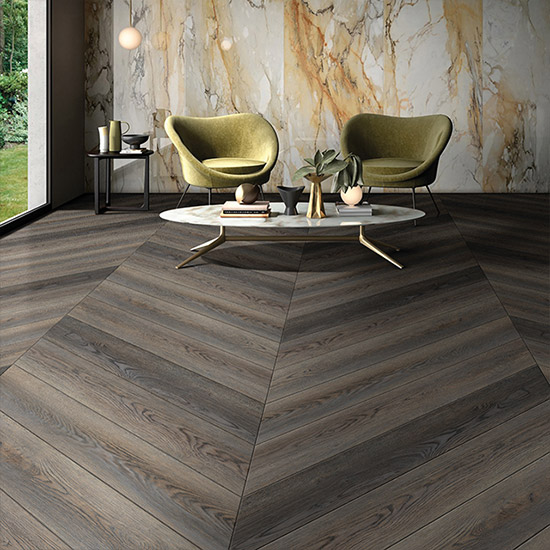 There was a time when the carpet was very popular at the office. Indeed, the carpet can make offices look warm and luxury, but its drawbacks are also very obvious. It is not resistant to corrosion and stain while hard to clean, which are headache problems for offices having lots of stuff. Now, many companies give up the carpet while decorating their offices and choose the LVT flooring made of new material. Why? The simplest answer is the LVT flooring is less expensive than the carpet. However, except for cost reduction, there are plenty of other advantages to use the LVT floor at the office. And to know these advantages can help you to decide which floor you should choose for your office.
1. LVT is 100% non-toxic and zero-formaldehyde, so it won't be harmful to people.
Nowadays, people usually spend 8 hours, or even more, at the office every workday. If you choose other floors which contains poisonous substance, you need to wait at least three months before moving in. Or it will affect your and your employees' health. So, you need to either find another working place during the three months or just put off the grand opening. And either of them would be a huge waste of money and time. But, if you choose the LVT floor, you can keep the business going right after the decorating. So, as a responsible boss, the LVT floor is a reassuring choice for whether health or money.
2. High-quality LVT flooring's fire-proof level can reach to B1.
Fire prevention work is very important to offices as they are confined space. Once the fire breaks out, LVT floor can gain more time for the employees. If the office is at a lower floor, LVT flooring can give you enough time to flee out of the building. And if not, LVT flooring can still keep you safe until the arrival of firefighters. For some areas, the decorating materials for high buildings are required to be fire-proof. In fact, fire-proof materials is actually an increasing trend as the government is taking work safety more and more seriously. If you use other non-fireproof floors, possibly you still need to redecorate the office later on. But if you use the LVT floor now, you don't have to change the floor as the government policy changes. So, over the long term, LVT is the best choice for companies.
3.LVT flooring feels more comfortable underfoot than tile flooring.
If you choose the tile floor, the office will feel like a cold cellar in winter. And people will just lose the working enthusiasm. Compared to the cold tile floor, LVT floor can create a warm feeling for the workers. Also, due to its great sound absorption performance, the LVT flooring can absorb 22 decibels of noise. So it can provide you and your employees a quieter working place. Lots of studies showed that employees would be more effective in a quiet environment. While noises would make the workers feel anxious and stressful.
Therefore, LVT floor is highly recommended especially when your office is at a place with heavy traffic. At this point, the LVT floor is no longer a pure decoration, but also a productivity tool.
4.The surface of LVT flooring has been specially treated.
So, it is not only antibacterial and mildew-proof but also stain-resistant and easy to clean. For wood floor, you need to keep it dry and clean all the time. If there are tough stains on the wood floor, you can only use the special detergent to remove it. And you should always keep the office at an appropriate humidity. Or the floor would either deform or go moldy.In the office, people always need to drink water, milk or coffee, which can be spilled out frequently. And it's even more impossible to let the dustman keep going around in the office. However, the LVT floor is water-proof, so you can clean the dirt once or twice a day with a mop and normal detergent. There's no need to worry about cola making the carpet moldy and how to clean snack debris!
5.Under local compression, the LVT flooring will have an instant elastic deformation.
It means the surface friction coefficient will increase immediately, so you are not easy to slip while walking on it. Even if you slipped, the cushioned backing layer of the resilient floor can provide suitable friction to reduce the impact force and protect you. Also, you always need to move or locate heavy things in the office, such as desks, bonsais and machines, which are all dangerous things for the carpet and wood floor.But the LVT floor is produced for high-traffic areas, as it has a special wear layer which carries hyper wear-resistant revolutions. Under normal circumstances, it can be used for 10-50 years. Which means you hardly need to change the floor.
So far, I have listed the 5 major advantages of the LVT flooring, which are the main reasons for its popularity. Also, the LVT flooring can resemble the appearance of both natural and artificial things. So you can get any color and pattern you want. If you are choosing floors for your office, the LVT flooring is definitely the most cost-effective one.
To buy high-quality LVT flooring, Cocorosa is your best choice. We are a top manufacturer and supplier of vinyl flooring with experienece of many years. Not only can we offer good-quality LVT but also responsible export service for every client. For more information, you can contact us at Sales@Cocorosasurefaces.com.