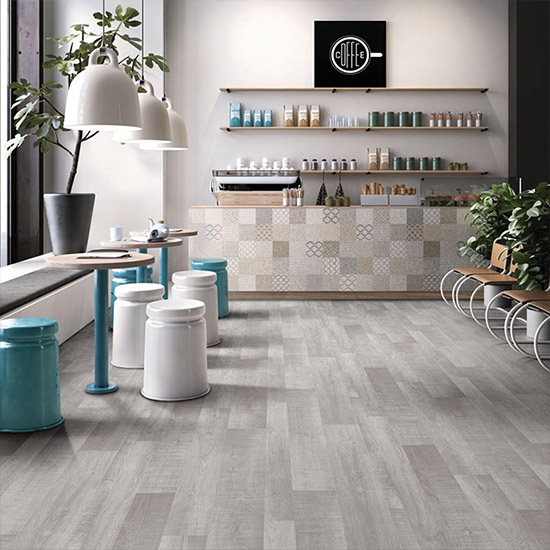 The trend of floor changes all these years as different homeowners have different needs and preference. If you have ever followed the home design market, you must have noticed one of the latest trends-SPC click-lock floor. Why did so many people choose SPC click-lock floor for their houses, offices and business? Today, I will tell you the twelve main advantages of it. And I wish it can help you find out the most appropriate floor for you and your families.
1.100% Environment-Friendly
The main materials of SPC click-lock floor are the high-quality polyvinyl chloride resin and high-grade calcium powder. These two materials are both natural, environment-friendly and 100% formaldehyde -free. Also, they are free of lead, benzene, heavy metals, carcinogens, soluble volatiles, and radiation. So, lots of people deem the SPC click-lock floor as their best choice even if only for the environment.
2.Skid -Proof
For most families, safety is always the most important thing. And I bet you have already heard of multiple cases of people having a fall injury at home because the floor is so wet and slippery. But SPC click-lock floor has a strong anti-slip performance, its friction will increase a lot when the floor is wet. Which means you and your families won't be that easy to slide down. Therefore, SPC click-lock floor is highly recommended especially when there are old people or kids at your family who are especially vulnerable in case of fall injury.
3.Antibacterial and Mildew-Proof
The surface of SPC click-lock floor has been specially treated during its production, which has strong ability to kill and inhibit most bacteria. As we all know, bacteria are the main cause of many diseases such as Cholera, typhoid and pneumonia. At this point, SPC click-lock floor can keep you healthy to some extent. Moreover, the SPC click-lock floor is mildew-proof, so you can simply clean it with water and mop while don't have to worry about the mold problem.
4.Warm and Comfortable
SPC click-lock floor has great thermal conductivity and heat dissipation capacity. So, it's the best choice for energy saving of the under-floor heating system. Also, SPC click-lock floor feels warmer underfoot while tile floor feels super cold especially in winter. If you like to walk barefoot, it would be a great enjoyment to use the SPC click-lock floor. It can create you a cozy environment and bring you the warmth of home.
5.Waterproof and Moisture-Proof
PVC doesn't react with water, so it won't go moldy for moisture. Comparing to traditional wood floor, it is more suitable for damp areas like bathroom, kitchen, laundry room and dining room. If you like the appearance of wood floor but don't want to deal with the mold and deformation problem, SPC click-lock floor can meet all your needs. And the best part is, it is even less expensive than wood floor.
6.Ultra-light and Ultra-thin
SPC click-lock floor is usually 3.2mm-12mm thick and very light. So, it carries comparable advantages for load bearing and space saving in tall buildings and renovation of old buildings. Also, because of its thickness, it would be very easy for you to transport and install it by yourself. So you can save an amount of transport and installation fees for other important things.
7.Renewable
Currently, SPC click-lock floor is the only renewable floor decoration material, which is of great significance for protecting our natural resources and ecological environment. Therefore, you don't have to put plants or air purifiers at your home because of the formaldehyde problem. Also, you don't have to wait for three months or even longer to move in after the decorating.

8.High-Resilience
SPC click -lock floor has great resilience under the impact of heavy objects. And it is commonly known as "soft floor gold" for it feels comfortable underfoot. It can also minimize the damage to the human body from the ground and can disperse the impact on the feet. So, it is better to use SPC click-lock floor if there are elders or children in your family for it will be a disaster if they slip on other hard floors.
9.Super Durable

The surface of SPC click-lock floor has a special transparent wear layer processed through high-tech production. Its wear-resistant revolutions are about 20,000. Depending on the thickness of the wear layer, it can be used for 10-50 years under normal circumstances. So, for the high-traffic area such as home, school and restaurant, SPC click-lock floor is better than other low-durable floors.

10.Sound Absorption
The sound absorption effect of SPC floor can reach to more than 20 decibels, which is can't be comparable by other ordinary floor materials. So, it can make the family quieter and bring you a better living environment. No matter what you are doing, study or work, you won't be disturbed by footsteps and other noises.
11.Beautiful and Fashionable
SPC click-lock floor has rich colors and can be installed seamlessly, leaving no sanitary corners at your home. It can also mimic the appearance of wood and stone, so you can get a variety of styles and patterns. Whatever design you like SPC click-lock floor can meet the demand.
12. Fireproof and Flame Retardant
SPC click-lock floor is non-toxic and can't self-ignite. It carries excellent fire-resistance rating which means it can stop fire. And when the fire touches the floor surface, it will go out without producing any harmful gas. So, if the fire breaks out, SPC click-lock floor will give you more time to flee out. To some degree, it's not only a pure decoration, but also a life-saving tool.
Except for these, SPC click-lock floor also has other characteristics such as stain resistance, glue-free installation and dimensional stability. With this much competitive advantages, SPC click-lock floor is getting more and more popular. If you still don't know what to choose, SPC click-lock floor is definitely worthy of trying. And trust me, it will surprise you with its price and performance.
To buy high-quality SPC flooring, COCOROSA is your best choice. We are a professional manufacturer and supplier of vinyl flooring. For more information and service about our products and company, welcome to contact us at Sales@Cocorosasurefaces.com.