4 Reasons to Install SPC Vinyl Flooring for Cafe
Views: 50 Author: Site Editor Publish Time: 2021-08-30 Origin: Site Inquire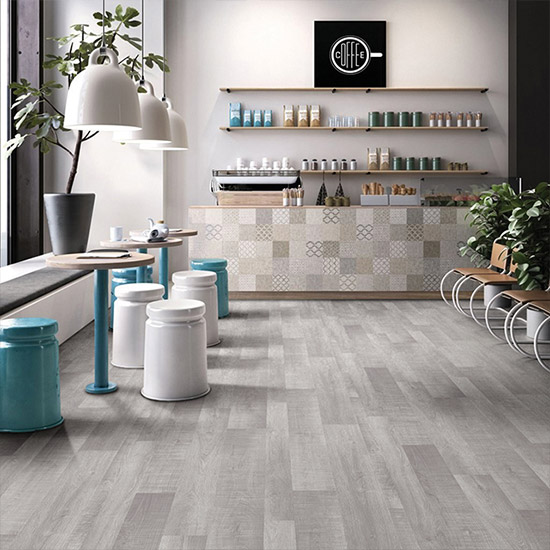 Cafe is a place where people enjoy a cup of coffee as well as relaxing and chatting with their friends. So a popular cafe must attract high traffic every day. Flooring is a long-term visual decoration material. To choose a suitable flooring is helpful to upgrade the cafe environment and increase the steam of customers. In order to attract the customers all the time, SPC vinyl flooring is one of the most ideal material for a cafe.
SPC Vinyl Flooring Is Highly Wear-resistant
Cafe is such a high-traffic area where there is a large amount of visitor comes every single day. The maintenance of the flooring will be a challenging task. SPC vinyl has a functional wear layer and UV layer. They provide effective resistance to scratch, wear, and stain. Unlike hardwood, the surface of SPC vinyl flooring won't suffer from scratch and wear caused by high traffic.
SPC Vinyl Flooring Is Waterproof and Non-slip
The floor can be slippery in the cafe it is hard to avoid coffee, water, or other spill splashing down. This can be dangerous for customers, and you must be responsible for the potential accidents. The surface of each SPC vinyl plank has a special anti-slip performance. It can protect you from slipping when walking on the wet vinyl floor. Unlike the wet ceramic tiles or natural stone, they can be slippery and dangerous to walk on.
In addition, if the floor has poor resistance to moisture, you will also need to pay for the repair. SPC vinyl flooring is 100% waterproof and is particularly suitable for moist area like kitchens and bathrooms. It can withstand the moisture for a very long time and you won't need to repair or replace it.
SPC Vinyl Flooring Feels Softer Underfoot
In some western countries like Italy and Spain, the people like standing to drink cafe. So the foot feel of the flooring is vital. SPC vinyl planks have a cushioned underlayment that provide softer and warmer foot feel. The customers feels comfortable and they would like to stay longer and order more drinks in the cafe.
SPC Vinyl Flooring Is Quieter
Commercial places are always full of noises, which can make some customers upset. SPC vinyl planks have great ability to absorb sound, especially the sound from high-heels. Installing SPC floors in cafe can improve the environment for the customers so that they can feel more comfortable.
SPC Vinyl Flooring Is DIY-Friendly
Installing ceramic tiles or hardwood planks in cafe can be take much time, labor, and even cost. You need to hire a professional installer to do for you can't do it by yourself. Instead, you can install SPC flooring all by yourself. SPC can be installed over the existing flooring that is smooth and leveled. The planks all have the unique click-lock system so they can interlock tightly without using nails, glue, or cement.


SPC Vinyl Flooring Looks Beautiful And Costs Less
There are various patterns and designs for SPC vinyl flooring. It can resemble the look of real stone, wood, and other natural materials. Besides, compared to ceramic tiles and hardwood, SPC flooring is relatively inexpensive. With low budget, you can still can create an elegant style for the cafe.


Where to Buy SPC Vinyl Flooring For Cafe?
Cocorosa is a experienced manufacturer and supplier specializing in SPC, LVT, and peel and stick vinyl flooring. With advanced equipment and professional production we can ensure the best quality for clients. If you are looking for luxury vinyl flooring, welcome to ask a quick quote from us at Sales@Cocorosasurefaces.com.