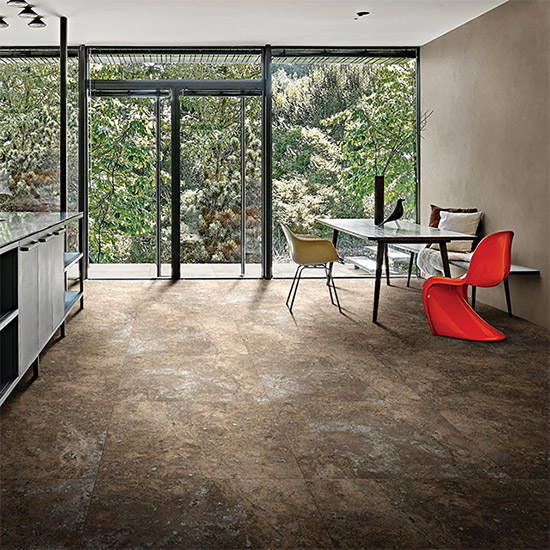 In recent years, open floor plans have become the trendy options in interior finish. A house with an open floor plan can seems brighter, more spacious, and get family members closer. But it is not easy for homeowners to choose flooring for open floor plan. There are a variety of different flooring for open plan. A suitable flooring can contribute to creating an unique style for your house. How to choose the right flooring for open-plan houses? Here are some tips you need to know.
What Is An Open Floor Plan?
I believe many people still know little about open floor plans though they often hear of this term. Open floor plan usually refers to a large room combining the common areas by eliminating doors and walls in a house. But it doesn't mean there will be no doors and walls. An open floor plan only applies to the shared areas in a house.
Generally, a open floor plan is to join dining room, kitchen, and living room all together into a common "great room". Inversely, in a closed floor plan, each functional area is separated by doors and walls .
Are Open Floor Plans Better?
Many people may have such a question: Is open plan living better? The answer is Yes! Open floor plans are an excellent choice for plenty of reasons. First of all, open plans can brighten your house. If your house feel dark, open floor plans are an effective method to let the natural light fill your house. Since there are no walls and doors in the "great room", the communal areas like kitchen and living room can share light.
Then, open plans may help make your house look bigger. Open floor plans eliminate walls and doors that always hinder traffic. After joining the shared places into a large room, you will find the area bigger with a non-boundary feeling. Besides, a open-plan house can improve your family communication and relationship. Without walls and doors, the family members can talk with each other across rooms. You can talk to your mom when eating in dinning room while she's chilling on the coach.
How To Choose The Best Flooring For An Open Floor Plan?
Open floor plans with a right type of flooring can add lots of values to your house. Therefore, please take everything into consideration before making the final decision. Here we give you five when selecting flooring for open floor plans.
Consistency
Should flooring be same throughout house? I think most people would have such a question. Using the same flooring for an open floor plan is beneficial. Consistency can help create a clean, tidy and peaceful feeling for the space. And don't mix different types of flooring like vinyl and tiles, or tiles and hardwood. This not only make the space smaller but also destroy the spacious atmosphere. Whether wood flooring, vinyl flooring or tile flooring, both of them can create a great consistency as open-plan flooring. So please use a continuous type according to your personal preference.
If you want to make the floor transition perfect in open floor plans, go for the flooring of same colour. A simple and light colour would be preferable to make the space feel more spacious and continuous. Meanwhile, the consistency of both style and colour can minimize the floor transition visually. However, laying flooring with consistency doesn't mean the large room look entirely the same. You can decorate the space with placing various furniture. A small chair, a table, or a bookshelf can differentiate areas in the big room.
Durability
An open floor plan is a high-traffic area where your family, pets, visitor walks in frequently. As time goes by, there must be scratches, wear, or other damages to the flooring. You won't want to spend money in repairing or replacing the floors very often. Therefore, choosing a durable flooring for an open floor plan is quite important.
Hardwood flooring is elegant, luxurious enough to serve an open floor plan. However, its surface is easy to get scratches, and the repair cost will be very high. Pets' paws, high heels, or debris can keep damaging hardwood's surface. Moreover, the maintain cost is also as high as repair. You need to apply wax to the daily maintain in order to keep the flooring polished. And what you need to know is that hardwood is not waterproof. It can grow mold in a moist environment like the kitchen. So it may not a right type for the open-plan space.
Tiles and vinyl flooring would be the better option for a open floor plan. They can withstand mos of daily scratches as they are both scratch-resistant and wear-resistant. What's more, tiles and vinyl is waterproof. This makes them can perform well even in a moist area like the kitchen. And the maintain is quite cost-effective and simple. Regular vacuuming and mopping with water is fine.
Safety
Safety is always the priority both for ope floor plans and closed floor plan. A large room joins some functional areas into a interconnected space. When one of the area gets problem, it may affect the other two or three areas. Thus, the flooring must be safe enough to protect our body.
Hardwood and tiles contain formaldehyde that is harmful to our health. What's more, ceramic tiles can be slippery when there is water on it. Children and old people are likely to slip down in the space.
Vinyl flooring can solve all these problem. Vinyl is made from PVC, which is non-toxic. Besides, it is an anti-slip material that can cause less accidents in the house.
Installation
How to install the flooring in open floor plans is also a concerning question. If you are the DIY type or you want to save cost, please choose an easy-installed flooring.
Hardwood and tiles are not so available in DIY installation. You'd better hire a professional installer to ensure the best result. But with vinyl flooring, you can finish the installation by yourself easily for vinyl's click-lock system. Unlike hardwood and tiles, the installation doesn't need any nails, glue, or cement. When there are some planks broken, you can also replace them easily.
Price
An open floor plan needs more panels, so please consider your budget. Generally, hardwood and tiles are the more expensive type. Plus the installation fee, you are going to pay a lot for the space. Vinyl flooring has a realistic look of the natural stone and wood but it is relatively cheaper than hardwood and tiles. Besides, vinyl flooring is available in DIY installation, which can help you save cost.
Sum-up
Every type of flooring has advantages and weakness. With these tips above, you can have a clear idea of which flooring fits your open floor plans better.
For more information about our SPC vinyl flooring, please feel free to contact us at Sales@Cocorosasurfaces.com.